Edit article
Orthodoxy and The Challenge of Biblical Criticism
Orthodoxy and the Challenge of Biblical Criticism
Reflections on the Importance of Asking the Right Question*
Dr. Tamar Ross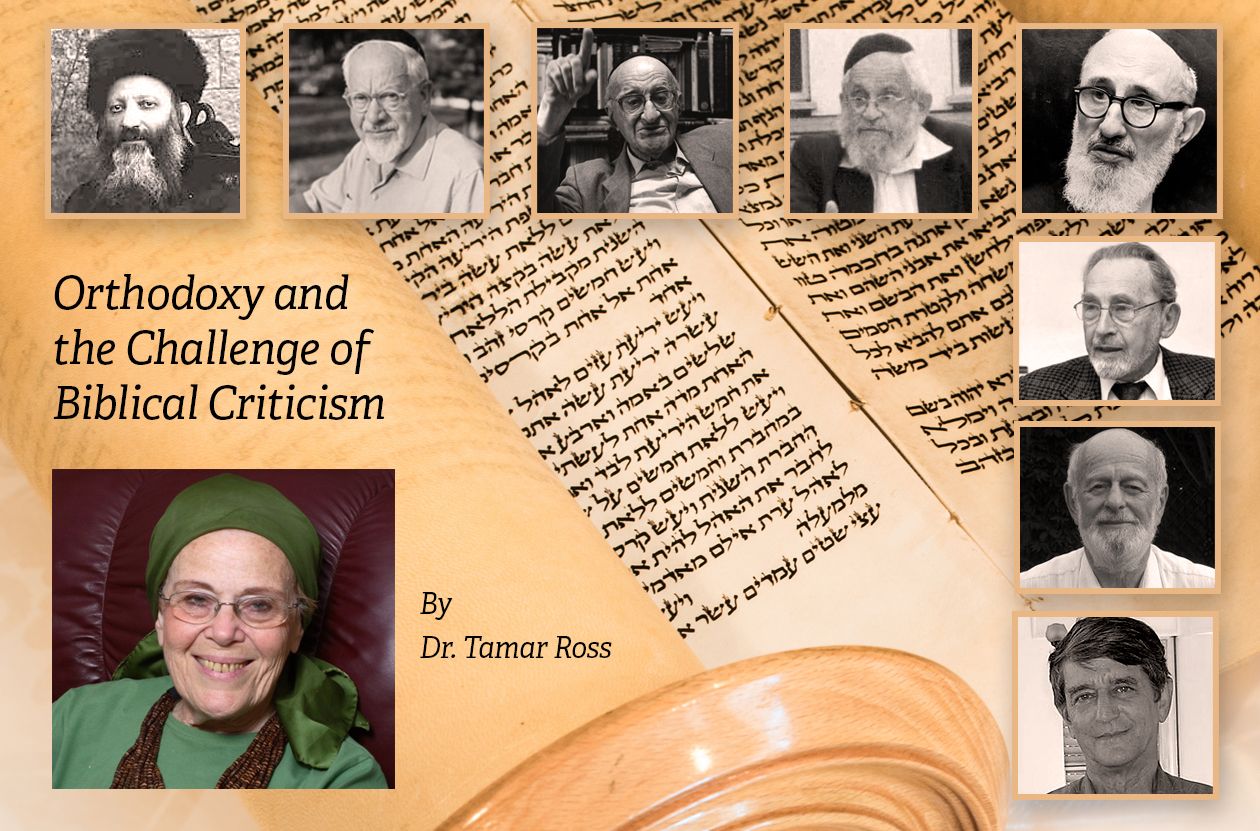 This article divides into three parts:
The first part (sections I-IV) offers a more detailed definition of the challenge that biblical criticism poses to Orthodoxy, and a brief survey of the main solutions that have been developed thus far. These solutions are based on evaluating the validity of religious truth claims on the basis of their correspondence to empiric reality.
In the second part (sections V-XI) I follow the development of an alternative trend which seeks to offer adherents of Modern Orthodoxy a more satisfactory response by moving the discussion to a different track. This trend, which is associated with the approach of post-liberalism and constructivist views of truth, focuses upon the function and meaning of religious truth claims in the life of the religious believer.
The third part (sections XII-XVIII) will relate to the need to nevertheless bridge the gap between reality and meaning in religious discourse, and offer an intra-religious approach to theology which blurs the sharp distinction between the human and the divine, the natural and the supernatural.
I – Difficulties for the Modern Believer
As formulated by Maimonides in his 8th principle of faith,

[1]

traditional Jewish belief in a divine origin for the Torah entails a number of notions, specifically,
The biblical text in our hands today was transmitted by God to Moses,

Every word of this text is equally divine and laden with meaning,

This written text was simultaneously accompanied by an oral commentary.
Critical approaches to the biblical text, which pose problems for this formulation, are not a modern invention. Nevertheless, there is no denying that the scope and intensity of such questions have increased considerably in the past century. Beyond the usual difficulties (erroneous or fallible content, questionable morality, and textual evidence of evolutionary historical development), the feminist critique has most recently problematized the very notion of divine revelation as verbal communication – given that language itself now appears so pervasively rooted in a particular perspective and cultural bias.
[jbutton color="gray" size="small" link="http://thetorah.com/the-challenge-of-biblical-criticism/heterodox-responses/" rounded="yes"] Continue – Heterodox Responses [/jbutton]
___________________
[jbox color="gray"]
Dr. Tamar Ross is Professor Emeritus of the Department of Jewish philosophy at Bar Ilan University. She continues to teach at Midreshet Lindenbaum, a women's Yeshiva in Jerusalem with which she has been associated since its inception in 1976. Born in the United States, she moved to Israel at the age of 16, completed her academic training at the Hebrew University of Jerusalem, and served as a post-doctoral fellow at the Center for Jewish Studies at Harvard. After raising seven children she returned to academia, serving on the faculty or as visiting scholar at various universities in Israel, the United States, and South Africa. She has published over 60 articles relating to Jewish thought in scholarly journals and anthologies and a book entitled Expanding the Palace of Torah: Orthodoxy and Feminism. Her areas of interest and expertise include: contemporary challenges to traditionalist Jewish theology (including feminism, historicism, biblical criticism and postmodernity), concepts of God, divine revelation, religious epistemology and hermeneutics, philosophy of halakha, the Musar movement (a modern pietist movement devoted to the development of spiritual discipline and moral conduct), and the thought of the 20th century mystic, Rabbi A.I. Kook.
[/jbox]
03/25/2014
* The phrasing of this subtitle draws inspiration from Cynthia Ozik's article: "Notes on Finding the Right Question", in On Being a Jewish Feminist, ed. Susannah Heschel (New York: Schocken Books, 21983), pp. 120-151, which begins by citing Suzanne K. Langer's observation, that "every answer is concealed in the question that elicits it, and that what we must strive to do, then is not look for the right answer but attempt rather to discover the right question." Without wishing to take any position here regarding the issue which provoked Ozik's interest in this observation (i.e., the source for women's ostensibly subordinate status in Judaism) or her conclusion (i.e., that the right question to ask in this case is sociological; for a rival view, see Judith Plaskow's response, "The Right Question is Theological", in the same volume), I concur with the general principle and believe that it is particularly germane to the issue at hand.
Thanks are also due to several people who contributed to the formulation of this article – first and foremost to the organizers of the seminar on "Orthodoxy, theological debate and the legacy of Louis Jacobs", sponsored by the Oxford center for Advanced Jewish Studies during the year of 2013, in which several of the scholars mentioned in this article took part. This convening facilitated clarification of the various positions and issues at stake in a friendly and constructive ambience, and created the impetus for spelling these all out in writing. I would also like to thank Charlotte Katzoff who read the manuscript in its early stages, and offered several important suggestions for clarifying my position. Last but not least is Zev Farber, who conducted a close and sensitive reading of its final form, recommending references to similar positions previously expressed on this forum, and subjecting it to various editorial devices such as subtitles and requests for clarification of technical terms, in the effort to render its regrettably heavy style a bit more reader-friendly.
[1] See his commentary to the Mishna, Introduction to Perek Helek
[printfriendly]
TheTorah.com is a 501(c)(3) nonprofit organization.
We rely on the support of readers like you. Please support us.
Published
|
Last Updated
August 29, 2020
Footnotes
View Footnotes
Essays on Related Topics: