Edit article
Locating Beer-lahai-roi
The episode surrounding Isaac's blessing to his sons in Genesis 27:27-29 and 39-40 has all the elements of a great novel: inheritance; an old, blind father that can be easily manipulated; a mother who prefers one child over his twin brother; hunter versus shepherd; dressing up; cheating. It all looks so real, if only it weren't being played on the wrong stage.
The Geographic Problem with the Negev as the Setting
Genesis 24:62b suggests that Isaac lived in the Negev [1](ויצחק […] והוא יושֵב בארץ הנגב). This setting creates a certain amount of discontinuity with the storyline. The Negev was never loaded with wildlife while the stage of our story is an area abundant with animals: Isaac sends Esau out to hunt, confident that the food will be ready for his next meal. The Torah notes the rush of Rebecca and Jacob to prepare their dish before Esau returns, through the four successive verbs (וַיֵּלֶךְ וַיִּקַּח וַיָּבֵא… וַתַּעַשׂ; Gen. 27:14); they worry that Esau may soon come back with an animal from the bountiful fields. Indeed, their stress appears to have been in place, for Esau missed his blessing by merely an instant.
In short, the story seems to be taking place in the wrong setting. This story could not have been written with the Negev in mind.
Beer-lahai-roi Is Not in the Negev
The Torah describes three main sites where Isaac spends his days prior to the account of the blessing of his sons: Beer-lahai-roi (Gen. 25:11b), Gerar (Gen. 26:1b) [2] and Beer-sheba (Gen. 26:23). The two last are known to be in the Negev. The location of Beer-lahai-roi, Isaac's main camp is unknown … at least thus far. Archaeologists and historical geographers have looked for it all over the Negev, but in vain. This is for good reason: I suggest that Beer-lahai-roi is not in the Negev.
In fact, Genesis 24:62 suggests that Beer-lahai-roi is not in the Negev:
וְיִצְחָק֙ בָּ֣א מִבּ֔וֹא בְּאֵ֥ר לַחַ֖י רֹאִ֑י וְה֥וּא יוֹשֵׁ֖ב בְּאֶ֥רֶץ הַנֶּֽגֶב.
Isaac had just come back from the vicinity of Beer-lahai-roi, for he was settled in the region of the Negeb.
The verse indicates that Isaac dwells in the Negev and he goes back and forth from there to Beer-lahai-roi.[3] It makes no sense to emphasize that Isaac dwells in the Negev, unless Beer-lahai-roi is not in the same area. Thus, Isaac seems to be traveling between the two camps.
Kadesh-Barnea in the North-West Sinai Peninsula Vs. Kadesh in Transjordan
The story of Hagar's pregnancy and escape (Gen. 16:1–14) gives us helpful information about Beer-lahai-roi. According to that story, that spring/well is located between Kadesh and Bared (16:14), on the road leading to Egypt (16:7)[4] and there is a spring in the site (16:7).[5] The road to Egypt excludes all roads whose primary direction is south-north or west–east.
Most scholars assume that the name "Kadesh" is a short version of "Kadesh-barnea." That is wrong, as the tangible geographical datum that the Bible supplies for the location of Kadesh is that it is on the border with Edom (Num. 20:14-16), and Edom was in the Transjordan, far away from Kadesh-barnea in the north-west Sinai peninsula. The Aramaic Targumim to the Torah, always render Kadesh as "Rekem,"[6] allowing us to position it with greater precision. Rekem also appears in the writings of Josephus,[7] is mentioned in the Tannaitic literature, [8]and was known as far away as China.[9] All of these references, as well as the inscription "Petraios son of Threptos,"[10] have led scholars to identify Rekem with Petra.[11]
Since Kadesh is identified with Rekem and Rekem with Petra, can we identify Kadesh with Petra?
Identifying Kadesh
The city of Kadesh was known to all Pentateuchal sources.[12] From P we learn that Kadesh was situated next to a spring and thus shouldn't be identified with Petra but rather with the area around Ein Musa – Moses' spring, on the eastern edge of the town Wadi Musa, near Petra.
About 5 Km north of Petra, situated in a short Canyon is one of Petra's business quarters. Tourists call it "Little Petra," on maps it appears as Beida, but the locals name the place Siq el-Bared. On a dirt-road about half way between Ein Musa (that is Ein Kadesh) and Siq el-Bared, are the ruins of a small Turkish village. The name of the village is Chai, and its spring is Ein el-Chai. This site matches all the requirements of Beer-lahai-roi: it is situated between Kadesh and Bared, on the road running east-west leading to Egypt and there is a spring at the site. I propose identifying Ein el-Chai as biblical Beer-lahai-roi.[13]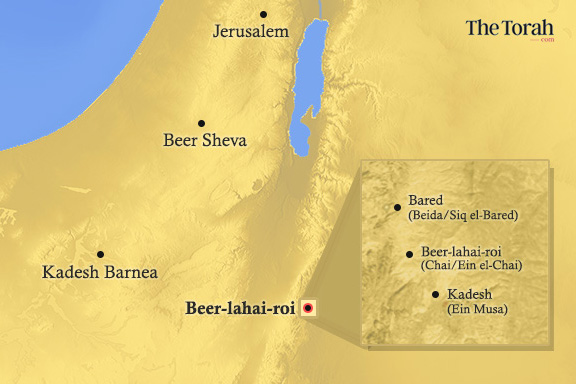 Back on Stage: A Etiological Tale About Mt. Seir
The story of Isaac's blessing doesn't mention any location, but if the stage of this story is Beer-lachai-roi, everything falls in its right place. That area, up to about 150 years ago, teemed with various kinds of deer, ibex, gazelle, boar, rabbit, and hyrax. With Beer-lahai-roi as the stage to our story, Isaac can send Esau out for a hunt, being sure that the food will be ready for next meal. This would also explain Rebecca's and Jacob's stress and rush preparing their dish.
Also, this area gives a new perspective to Isaac's blessing to Esau (Gen. 27:39–40). Esau comes in too late; the blessing has already been taken (27:33); Esau cries out with a great and bitter cry asking for another blessing (27:34, 36). But Isaac doesn't have an arsenal of blessings, so he responds by giving Esau not a blessing, but a territory (27:39). In my opinion, this story is an etiological tale about how Beer-lahai-roi on Mt. Seir, and the entire mountain became the possession of Esau (Deut. 2:5b). In Genesis, it is Isaac who give this territory to Esau, while Deuteronomy 2:5 suggests that God gave him that territory. Reading the Torah sources in order, it is as if God has accepted Isaac's "blessing" of Esau!
What Is Beer-lahai-roi Doing in Genesis?
How could a small hidden spring in southern Jordan get into the Bible, becoming the major dwelling place of Isaac? Perhaps the story originated with Israelites living in the Transjordan near Wadi-Musa / Kadesh, and they knew the area.[14] But why is Isaac presented as traveling such vast distances between his places of residence?
First the storyteller makes Isaac commute back and forth between the Negev and Beer-lahai-roi (Gen. 24:62), then he turns Beer-lahai-roi into Isaac's main dwelling site (Gen. 25:11) and finally he sends Isaac to live in Gerar as a result of a famine (Gen. 26:1b)![15] In fact, if Beer-lahai-roi is located near Ein Musa/Ein Kadesh with its abundant water, Isaac would never have faced famine there and would not have needed to move to Gerar! In other words, the story of Isaac and his wanderings makes no sense the way it is told.
An Old Legend, Already Misunderstood by J
I suggest that such a confusing order of stories about Isaac could only have come about if the author of J did not invent the figure of Isaac but collected already existing Isaac stories from traditional "storytellers."[16] Without being familiar with the real geography of the various sites, he made the wrong assumptions about the unknown location of Beer-lahai-roi, and put the episodes into an incoherent order, leading to our current confusion.
TheTorah.com is a 501(c)(3) nonprofit organization.
We rely on the support of readers like you. Please support us.
Published
November 15, 2014
|
Last Updated
November 7, 2023
Footnotes
View Footnotes
Dr. David Ben-Gad HaCohen (Dudu Cohen) has a Ph.D. in Hebrew Bible from the Hebrew University. His dissertation is titled, Kadesh in the Pentateuchal Narratives, and deals with issues of biblical criticism and historical geography. Dudu has been a licensed Israeli guide since 1972. He conducts tours in Israel as well as Jordan.
Essays on Related Topics: